The city of Rocky Mount has been committed to providing safe, reliable electric service for customers since 1902. Rocky Mount is one of more than 2,000 public power providers in the nation and one of 72 in North Carolina. Rocky Mount is also a recipient of the American Public Power Association's (APPA) Reliable Public Power Provider (RP3) award, which is given to utilities with the highest degree of reliable and safe electric service.
Rocky Mount, along with 64 other public power cities and towns in North Carolina, is a member of ElectriCities of North Carolina, Inc., a service organization that provides technical and administrative services as well as support in legal, legislative and regulatory matters.
The city of Rocky Mount electric service is provided by the Energy Resources department. Energy Resources owns and operates more than 700 miles of electric distribution lines that serve more than 27,000 residential and commercial customers in Nash and Edgecombe counties.
Download Electric FAQs (PDF)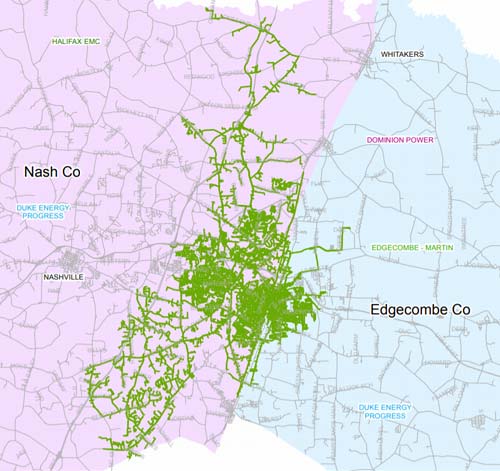 Service Territory
Total # of customers: 27,276
Miles of distribution lines: 734
Kwh sold annually: 748 million
Download map
Area lights provide automatic dusk to dawn lighting and additional security to dark areas around your home or business. There are a variety of area lights available with no installation or maintenance fees. A 3- or 5-year contract with monthly service fees is required for area light service. Please call (252) 467-4800 (option 4) for additional information.
Download the current Area Lighting Service schedule (PDF, 270KB)
Contact Information:
Repair: (252) 467-4800 (option 4)
Turn on/off: (252) 972-1250
Installation or Removal: (252) 467-4800 (option 4)
The reliability of the city of Rocky Mount's electric system is evaluated using the following indices based on the number of sustained customer interruptions (i.e. those lasting longer than one minute). The city of Rocky Mount results for 2020 are as follows.
Explanation of Indices
System Average Interruption Duration Index (SAIDI):SAIDI represents the total outage time in minutes that every city of Rocky Mount customer experienced in 2015.
Customer Average Interruption Duration Index (CAIDI):CAIDI represents the average time in minutes for the city of Rocky Mount to restore power.
System Average Interruption Frequency Index (SAIFI):SAIFI is the average number of interruptions that a customer would experience annually.
Comparison
Below is a comparison between Rocky Mount, NC Public Power and Rocky Mount's surrounding utility providers. In the case of all indices, a lower number indicates better reliability.
Public power is municipally-owned and operated electric service. More than 70 communities in North Carolina serve more than 400,000 residential, commercial and industrial customers. These communities are collectively known as NC Public Power. For the purpose of the indices, averages of all the utilities were used.
Commercial Load Management
The city of Rocky Mount offers a commercial Load Management Program to help large commercial and industrial customers reduce peak demand and improve the energy efficiency of their facilities. Customers participating in the Load Management Program receive a credit on their electric bill for each kilowatt (kW) of demand reduced during the monthly Coincident Peak (CP) Demand interval used by the North Carolina Eastern Municipal Power Agency (NCEMPA). Customers may reduce demand by such methods as modifying normal work schedules or installing peaking generation. If a generator is used, the generation size must be approved by the city.
Contact number: 252-467-4808
Residential Load Management
There are no installation or maintenance charges associated with this program. However, any service that has been tampered with so as to defeat the intent of the Load Management Program, shall result in additional customer charges and/or discontinuation of credits.
Load management is a means of controlling the amount of electricity being used at anyone time. When periods of peak demand occur, load management is used to reduce the demand for power and therefore lower the cost of electricity city wide. Customers who participate in the program allow Energy Resources staff to install a load management switches on appliances in their home.
Participation is voluntary, and customers choose which switches to have installed. By participating in the program, customers receive a credit on their electric bill depending on what type of switches are installed. Credits are issued during specific periods of time; however, appliances may be controlled in other months.
Contact number: 252-467-4803
Enroll in the Load Management Program
Tenants must receive permission from the property owner before switches can be installed. Please note that the Energy Resources representative is only permitted to discuss the load management credit on the customer's bill with the account holder. To schedule an appointment to have a switch installed, please call (252) 467-4803 or sign up using the online form below.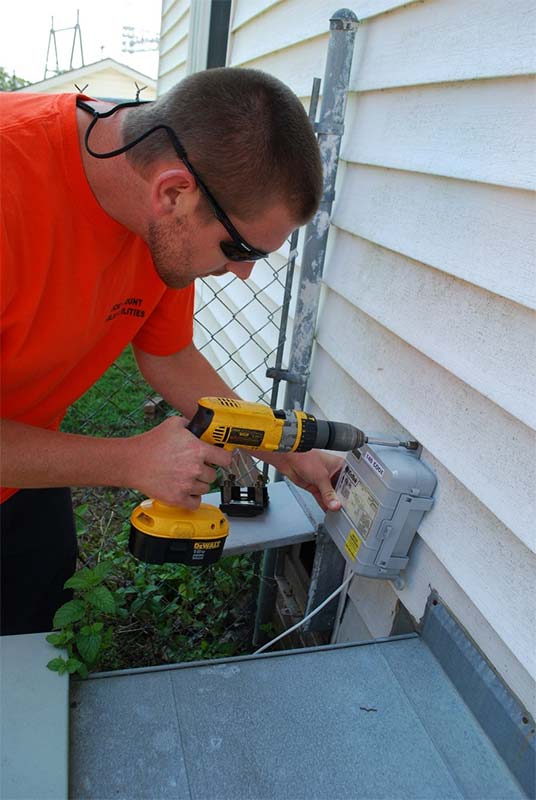 Residential Load Management
Residential Electric Rate Comparison (as of 1/1/20)
Values shown in the example below are based on an average household usage of 1,000 kWh per month with all three Load Management Program credits.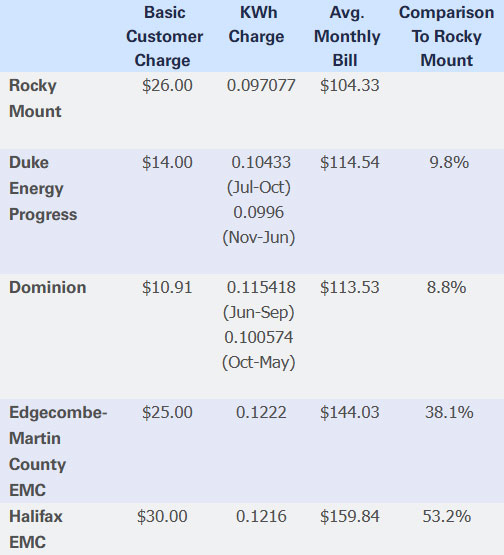 Note: Rates for Duke Energy Progress and Dominion are calculated based on a weighted average. Taxes are not added to the average monthly bill.
Although electricity provides us with the comfort and ease of everyday conveniences, it can be very dangerous, even deadly if not handled properly. Stay safe around electricity by following these safety tips.
Download the Electrical Safety Information brochure (PDF, 363KB)
Pipeline Safety
North Carolina law requires you to call 811 at least three full business days before digging and wait for utility lines to be marked on your property. Every digging job deserves a call, even small projects like planting trees or shrubs. The depth of utility lines varies and there may be multiple utility lines in a common area. Utility lines need to be properly marked because even when digging only a few inches, the risk of striking an underground utility line still exists.
Choosing not to call 811 before beginning a digging project could have serious results, such as injuries, disrupted service to entire neighborhoods, fines, and repair costs. You can avoid these unnecessary consequences by making one free phone call to 811 three days prior to digging.
Watch The Safe Digging Process