The city of Rocky Mount has been committed to providing safe, reliable electric service for customers since 1902. Rocky Mount is one of more than 2,000 public power providers in the nation and one of 72 in North Carolina. Rocky Mount is also a recipient of the American Public Power Association's (APPA) Reliable Public Power Provider (RP3) award, which is given to utilities with the highest degree of reliable and safe electric service.
Rocky Mount, along with 64 other public power cities and towns in North Carolina, is a member of ElectriCities of North Carolina, Inc., a service organization that provides technical and administrative services as well as support in legal, legislative and regulatory matters.
The city of Rocky Mount electric service is provided by the Energy Resources department. Energy Resources owns and operates more than 700 miles of electric distribution lines that serve more than 27,000 residential and commercial customers in Nash and Edgecombe counties.
Download Electric FAQs (PDF)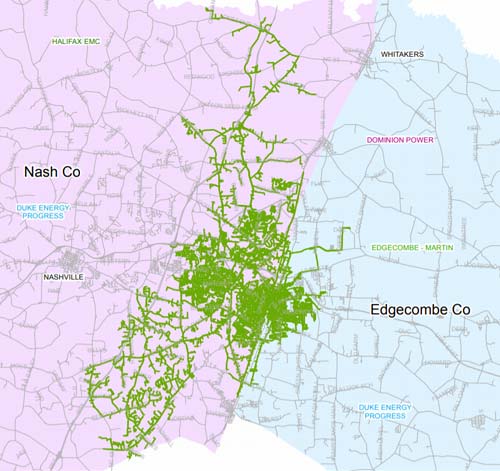 Service Territory
Total # of customers: 27,276
Miles of distribution lines: 734
Kwh sold annually: 748 million
Download map
Area lights provide automatic dusk to dawn lighting and additional security to dark areas around your home or business. There are a variety of area lights available with no installation or maintenance fees. A 3- or 5-year contract with monthly service fees is required for area light service. Please call (252) 467-4800 (option 4) for additional information.
Download the current Area Lighting Service schedule (PDF, 270KB)
Contact Information:
Repair: (252) 467-4800 (option 4)
Turn on/off: (252) 972-1250
Installation or Removal: (252) 467-4800 (option 4)
The reliability of the city of Rocky Mount's electric system is evaluated using the following indices based on the number of sustained customer interruptions (i.e. those lasting longer than one minute). The city of Rocky Mount results for 2021 are as follows.
| | | |
| --- | --- | --- |
| Index | Value of Index | Goal/Target |
| SAIDI (Minutes/Year) | 56.65 | Less than 60 |
| CAIDI (Minutes/Year) | 52 | Less than 60 |
| SAIFI (Interruption per year) | 1.09 | Less than 1.00 |
Explanation of Indices
System Average Interruption Duration Index (SAIDI):SAIDI represents the total outage time in minutes that every city of Rocky Mount customer experienced in 2015.
Customer Average Interruption Duration Index (CAIDI):CAIDI represents the average time in minutes for the city of Rocky Mount to restore power.
System Average Interruption Frequency Index (SAIFI):SAIFI is the average number of interruptions that a customer would experience annually.
Comparison
Below is a comparison between Rocky Mount, NC Public Power and Rocky Mount's surrounding utility providers. In the case of all indices, a lower number indicates better reliability.
Utility
Total # of Customers
SAIDI (in minutes)
SAIFI (# of interruptions)
CAIDI (in minutes)
Dominion
124,323
102
1.03
99.0
Duke Energy Progress (DEP)
1,472,018
125
1.16
107.8
Edgecombe-Martin County EMC
11,525
96.239
0.943
102.056
NC Public Power

 

(Average)
632,634
49.07
0.641
76.4
Rocky Mount
28,782
56.65
1.09
52
Public power is municipally-owned and operated electric service. More than 70 communities in North Carolina serve more than 400,000 residential, commercial and industrial customers. These communities are collectively known as NC Public Power. For the purpose of the indices, averages of all the utilities were used.
Commercial Load Management
The city of Rocky Mount offers a commercial Load Management Program to help large commercial and industrial customers reduce peak demand and improve the energy efficiency of their facilities. Customers participating in the Load Management Program receive a credit on their electric bill for each kilowatt (kW) of demand reduced during the monthly Coincident Peak (CP) Demand interval used by the North Carolina Eastern Municipal Power Agency (NCEMPA). Customers may reduce demand by such methods as modifying normal work schedules or installing peaking generation. If a generator is used, the generation size must be approved by the city.
Contact number: 252-467- 6496
Residential Load Management
There are no installation or maintenance charges associated with this program. However, any service that has been tampered with so as to defeat the intent of the Load Management Program, shall result in additional customer charges and/or discontinuation of credits.
Load management is a means of controlling the amount of electricity being used at anyone time. When periods of peak demand occur, load management is used to reduce the demand for power and therefore lower the cost of electricity city wide. Customers who participate in the program allow Energy Resources staff to install a load management switches on appliances in their home.
Participation is voluntary, and customers choose which switches to have installed. By participating in the program, customers receive a credit on their electric bill depending on what type of switches are installed. Credits are issued during specific periods of time; however, appliances may be controlled in other months.
Notice: Our load management switches, and smart thermostats are not always compatible with each other. If you choose to have a load management switch installed on your AC with a smart thermostat or add a smart thermostat to your AC unit that has load management switches installed, you are doing so at your own risk. The City of Rocky Mount is not responsible for replacing your smart thermostat due to incompatibility issues and/or total loss of the smart thermostat.
Contact number: 252-467-6498
To report an issue with a Load Management switch please call: 252-467-4800.
Enroll in the Load Management Program
Tenants must receive permission from the property owner before switches can be installed. Please note that the Energy Resources representative is only permitted to discuss the load management credit on the customer's bill with the account holder. To schedule an appointment to have a switch installed, please call 252-972-1544 or sign up using the online form below.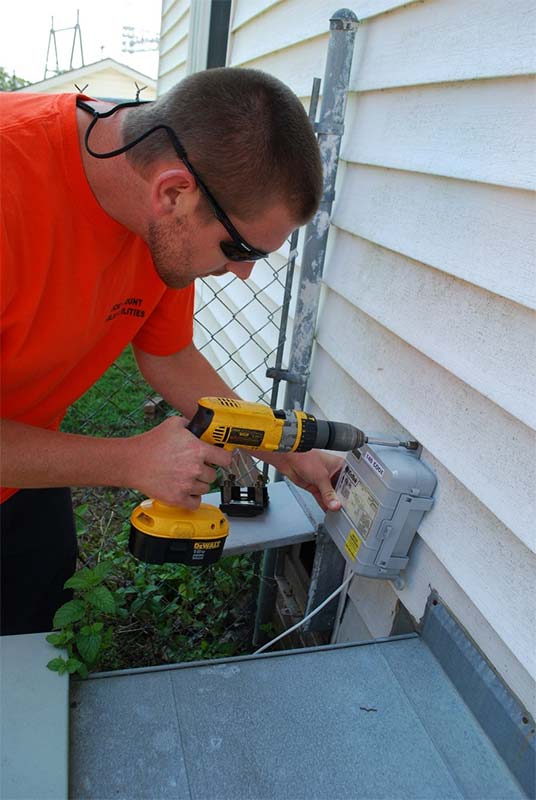 Although electricity provides us with the comfort and ease of everyday conveniences, it can be very dangerous, even deadly if not handled properly. Stay safe around electricity by following these safety tips.
Download the Electrical Safety Information brochure (PDF, 363KB)
North Carolina law requires you to call 811 at least three full business days before digging and wait for utility lines to be marked on your property. Every digging job deserves a call, even small projects like planting trees or shrubs. The depth of utility lines varies and there may be multiple utility lines in a common area. Utility lines need to be properly marked because even when digging only a few inches, the risk of striking an underground utility line still exists.
Choosing not to call 811 before beginning a digging project could have serious results, such as injuries, disrupted service to entire neighborhoods, fines, and repair costs. You can avoid these unnecessary consequences by making one free phone call to 811 three days prior to digging.
Watch The Safe Digging Process
Before starting any project, such as painting the siding or trimming trees, be aware of where the power lines are located and how high they are hanging. You do not have to touch a power line to be in danger. High-voltage electricity can jump to anyone who gets too close. Stay at least 10 feet away from power lines and their connections.
Always assume that all downed power lines are energized. If you see a downed power line, move away from it and anything touching it. The ground around power lines – up to 35 feet away – may be energized.
Do not drive over downed power lines. If your car comes in contact with a downed power line while you are inside, stay in the car. Honk your horn to summon help, but direct others to stay away from your car.
If you must leave your car because it is on fire, jump out of the vehicle with both feet together and avoid contact with both the car and the ground at the same time. Shuffle away from the car.
Contact the city of Rocky Mount immediately by calling 252-467-4800 to report downed power lines. Never touch a person who is in contact with a downed power line. Call 911 immediately.
Your portable generator can be a lifesaver during emergencies. Follow these simple tips to prevent injury to your family and utility workers restoring power.
Prevent backfeed and electric shock by only using a generator wired by a qualified electrician.
Plug electric appliances directly into the generator using manufacturer supplied cords or undamaged, grounded, heavy-duty extension cords.
To avoid electrocution, keep the generator dry and do not use in rain or wet conditions. Operate it on a dry surface, and do not touch the generator with wet hands.
Maintain and operate the generator in accordance to manufacturer's use and safety instructions.
Be sure to turn the generator off and let it cool down before refueling. Gasoline spilled on hot engine parts could ignite.
Do not attach a generator directly to the electrical system of a structure unless the generator has a properly installed transfer switch.
Inspect the portable generator for damaged or loose fuel lines.
Only use generators outdoors in well-ventilated areas away from doors, windows, vents and other openings. This will prevent exhaust fumes from entering the home. NEVER use a generator indoors. Also, install carbon monoxide detectors inside the home.
Determining Planting Location
Before deciding what type of trees to plant and where, you should first consider the location of overhead and underground utility lines. Overhead lines can be either electric, telephone, or cable television. Underground lines include these three plus water, sewer, and natural gas. The location of these lines should have a direct impact on your tree and planting site selection. The ultimate mature height of a tree to be planted must be within the available overhead growing space. Just as important, the soil area must be large enough to accommodate the particular rooting habits and ultimate trunk diameter of the tree.
Determine the amount of overhead space needed based on the tree's mature height and canopy spread.  Also, consider the tree's form or shape. For example, a columnar tree will grow in less space, but round and v-shaped species provide the most shade. It's also important to determine the underground space needed by considering the tree's rooting habits. Before beginning any digging project, always call 811 to have underground lines, pipes and cables marked.
For additional information, visit the Arbor Day Foundation at www.arborday.org. For assistance with selecting the right tree location, call 252-467-4808.
Energy Savings
Choosing the right type of tree and location can also help you save energy. Deciduous trees lose their foliage (i.e. leaves) during cold weather. When planted on the south and west sides of the home, they save energy by creating shade in the summer and allowing sunlight to warm the home in the winter.
See how properly placed trees save energy by providing summer shade and winter warmth.
Planting Near and Around Transformers
DO NOT place obstructions (e.g. fencing, shrubs, trees, plants, flowers) around the transformer that hinder the ability of the City to service, repair or inspect the transformer.
DO NOT place pine straw or compost around the base of the transformer as this could promote corrosion and cause the transformer to leak.
DO NOT plant any variety of running vine or shrubs or bushes that bear thorns or sharp protrusions around the transformer.
DO ensure that the top and front of the transformer are clearly visible.
DO ensure that a 5' clearance is maintained when placing plantings or fencing around the sides and back of the transformer. Trees planted within 15' of the transformer may eventually require removal if tree roots or foliage hinder service or maintenance of the transformer.
Customers are encouraged to contact the City before planting. Obstructions found by repair or inspection crews will be removed without notice to the resident.
Examples of Incorrect Planting around Transformers
Examples of Correct Planting around Transformers
For more information, contact the city of Rocky Mount staking engineers at 252-467-4846.