Keep America Beautiful of Edgecombe and Nash Counties is YOUR certified affiliate of Keep America Beautiful, the nation's largest community improvement network. The goal of KAB is to make the Twin Counties cleaner and more attractive by uniting efforts of neighborhood groups, churches, businesses, government agencies, service clubs and youth groups.
Stephanie Collins
KAB Coordinator
P: 252-467-4960
F: 252-467-4965

Frederick E. Turnage Municipal Building
331 S. Franklin St.
Rocky Mount
KAB is working to improve community litter habits and understanding of the impact of litter on our natural and neighborhood environments in four major ways:
KAB coordinates and promotes the Adopt-a-Spot litter pickup program which enables individuals, families, churches and other civic groups to adopt a street, stream or spot on a long term basis.

KAB organizes and supports volunteers in and conducting one time litter pickups and promotes participation in seasonal litter pickups such as the spring Clean Sweep and the North Carolina Big Sweep in the fall.

KAB conducts and supports volunteers in teaching litter education programs in schools, churches, boys and girls clubs, scout troops, and at special community events such as the Downeast Festival of the Arts and other expos and educational events.

KAB promotes waste reduction and recycling through programs such as the Rocky Mount area and Tarboro area phonebook recycling programs.
KAB is funded by our tax dollars and is here to serve our community, so please utilize our KAB programs. The KAB coordinator offers litter education presentations free of charge, to businesses, civic groups, and schools. We also participate in community fairs, conferences and other local events.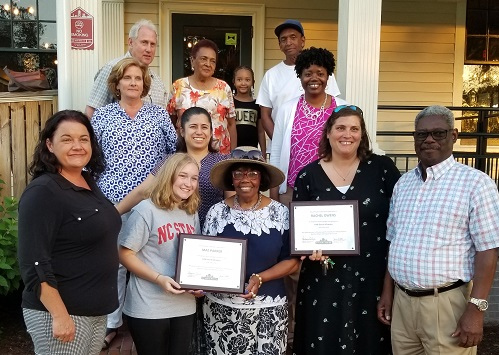 Adopt a street, stream, or spot in your area and KAB will be glad to install an Adopt-a-sign with your group's name on it! We'll provide trash grabbers, gloves, safety vests, trash bags and in most cases we will even collect the trash bags! All you need is a commitment and a site to adopt! Anyone from individuals to industries can adopt!
Remember, there are two Adopt-A programs in our area:
KAB Adopt-a-Spot

NCDOT Adopt-a-Highway: The North Carolina Department of Transportation (NCDOT) provides an Adopt-a-Highway program designed to cleanup state roads (roads with a SR0000 number). Keep America Beautiful can provide supplies for these cleanups when coordinated with NCDOT. For more information and to sign up for this program, visit the NCDOT Beautification website.
Guidelines
You can select any spot or section of a street or stream as long as it is reasonable.

Adoptions require cleaning of the adoption site on a quarterly basis.

After your group schedules and reports four cleanups at the site being adopted KAB will install a sign designating your adopted section.

Gloves, vests, unused bags, and trash grabbers must be returned promptly after each cleanup.

All cleanups must be reported in advance with a pre-cleanup form available for submission or printout on line.

Event Reports must be submitted on line or called or faxed in at 252 467-4965.

Ages 12 and older may apply. Youths must have adequate adult supervision.

Recycling is encouraged whenever possible
Keep America Beautiful (KAB) of Nash & Edgecombe Counties is made up of a small group of members who are dedicated to the environment and to the Twin County area community. The board meets at 3:30 p.m. on the second Tuesday of every month at the City of Rocky Mount Environmental Services Operational Center.
KAB of Nash & Edgecombe Counties would not be what it is today without the dedication and hard work of the board members.
James Alston, KAB Advisory Board Chairman/Town of Castalia Commissioner
Ben Barnes, Nash County Solid Waste
Elijah Cooper, Retired Edgecombe-Nash Retired School Personnel
Miriam Espinosa, NA Environmental Compliance Specialist
Natalie Schoonover, Environmental Leader
Gloria Moseley, Edgecombe County Solid Waste Manager
Barb Weiffenbach, Science Teacher
John Wooten, Retired Federal Government
KAB of Nash & Edgecombe Counties is in need of volunteers to serve on the KAB Advisory Board. As a board member, you will actively participate in the implementation of litter prevention programs,recycling campaigns, and community beautification initiatives. The board works to improve the quality of life and to increase participation from residents in small towns throughout both Edgecombe and Nash Counties. If you have any interest in making a difference in the Twin County area's environment, this is a good opportunity for you. Call 252 467-4960 for more information.
Frequently Asked Questions
How can I volunteer for KAB events?
Click here to register as a KAB volunteer and get involved in any of our programs. You may also call 467-4960.
What does "register as a KAB Volunteer" mean?
Registering simply means you have provided KAB with your contact information and indicated the program or programs you may be interested in. Registering also allows you to receive information about upcoming KAB events.
What is Keep America Beautiful (KAB) and what are its goals?
KAB is a volunteer based litter eradication program. KAB aims to make Edgecombe and Nash Counties litter-free by organizing volunteers in litter education and pickup programs.
What are the major sources of litter?
Improperly containerized household refuse
Improperly containerized commercial refuse
Loading/unloading areas
Uncovered trucks
Construction/demolition sites
Motorists
Pedestrians
Why do people litter?
Keep America Beautiful Inc. conducted a study specifically to answer this question. The most common reason for littering is a lack of feeling of ownership of the littered community. When people don't feel like they are a part of their community littering becomes a problem.
Why pick up litter? How does it affect me?
Keeping our communities litter free is important. Litter free communities have higher property values, less crime and a better quality of life. Furthermore, KAB research shows that litter encourages litter; people begin to think "why should I care; obviously no one else does."
What can I do to make a difference?
Volunteer with Keep America Beautiful! Set an example by not littering; pick up one piece of litter per day; make sure your trash cans have lids that can be securely attached; adopt a street, highway, or park. If you have curbside trash service, do not put out open containers or boxes filled with trash. Carry a litter bag in your car. If you drive a truck, do not use the truck bed as a trash receptacle (the trash will eventually blow out). If you smoke, properly dispose of the cigarette butt in an ashtray, not on the ground.
Can I report littering? What is Swat-a-Litterbug?
Yes littering is a crime and you can report it! Littering offenses and dumping should be reported immediately to law enforcement (Rocky Mount Police department 972-1411). Be sure to record license plate numbers, vehicle and offender descriptions, site information time and date. Remember timeliness is critical in litter reporting!
Less serious or difficult to report littering offenses should be reported to the SWAT-A-LITTERBUG program. Anyone observing a littering or illegal dumping violation can write down the license plate number, the color and type of vehicle, the location where the violation occurred, the date, and the time. Call 1-800-DOT-4YOU (1-877-368-4968). This is a direct number North Carolina Department of Transportation who will contact the vehicle owner via mail. To obtain Swat-A-Litterbug cards, call 1-800-331-5864. If you need a card immediately, call 467-4960 to obtain one from the KAB office.
What's the difference between "Clean Sweep" and "Big Sweep"?
Clean Sweep is an annual clean up. It has been our way of participating in Keep America Beautiful's Great American Cleanup. In previous Clean Sweep events nearly half of City of Rocky Mount employees have participated as well as several civic groups. The North Carolina Big Sweep is the state wide annual waterway cleanup that takes place the first weekend in October.
What happened to the C.L.E.A.N. Team?
In April 1998, we officially changed our name from The C.L.E.A.N. (Clean up Litter in Edgecombe And Nash) Team to Keep America Beautiful of Nash and Edgecombe Counties. This was done to more easily identify our local program with the national organization (KAB, Inc.), increase the overall visibility of KAB, and foster cohesive identity among the KAB affiliates located throughout the U.S.
Do you offer presentations to schools, churches, civic groups, etc.?
Yes. We are happy to speak to any group on topics ranging from litter prevention and abatement, to source reduction, recycling, and beautification.