The city of Rocky Mount is committed to providing efficient, affordable and reliable natural gas service to customers in Nash and Edgecombe counties. Rocky Mount is the recipient of the Gold designation award in the American Public Gas Association's (APGA) prestigious System Operation Achievement Recognition (SOAR) program.
The city's natural gas service is provided by the Energy Resources department, which owns and operates more than 500 miles of natural gas distribution lines that serve more than 16,000 residential and commercial customers. For an easy reference to the connection process, download the How-to-Connect Guide or call a Customer Service representative at (252) 972-1250 to apply for services.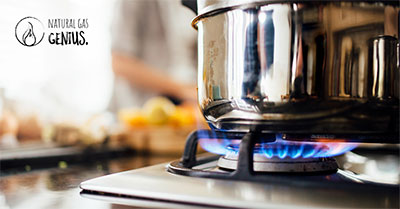 Natural Gas Genius is an excellent resource to get answers to frequently asked questions and learn all about the many benefits of choosing natural gas. Click here for more information.
Excess Flow Valve Regulation
Natural gas can be used for a wide variety of applications including space heating, water heating, laundry, cooking and fireplaces. The direct use of natural gas is 92% efficient from source to point of use within the home, more than twice the efficiency of traditional electricity generation. By switching to natural gas, you're reducing the amount of energy required to run the appliances you need in your home, saving you money on your bill and minimizing your carbon footprint. Since natural gas is delivered via an underground distribution system, service is less vulnerable to storms and extreme weather conditions. Plus, there's no need for a storage tank that must be refilled because natural gas is always available. Thanks to its abundance and efficiency when used directly in the home, natural gas is a cost-effective energy source. Families and households that choose a traditional mix of natural gas and electricity save nearly $900 a year compared to those using electricity only. At one-third of the cost of electricity, the cost savings of natural gas means real money that can be used for home repairs and upgrades, unplanned emergencies, and financial security.
For more information about the benefits of natural gas, check out these Frequently Asked Questions.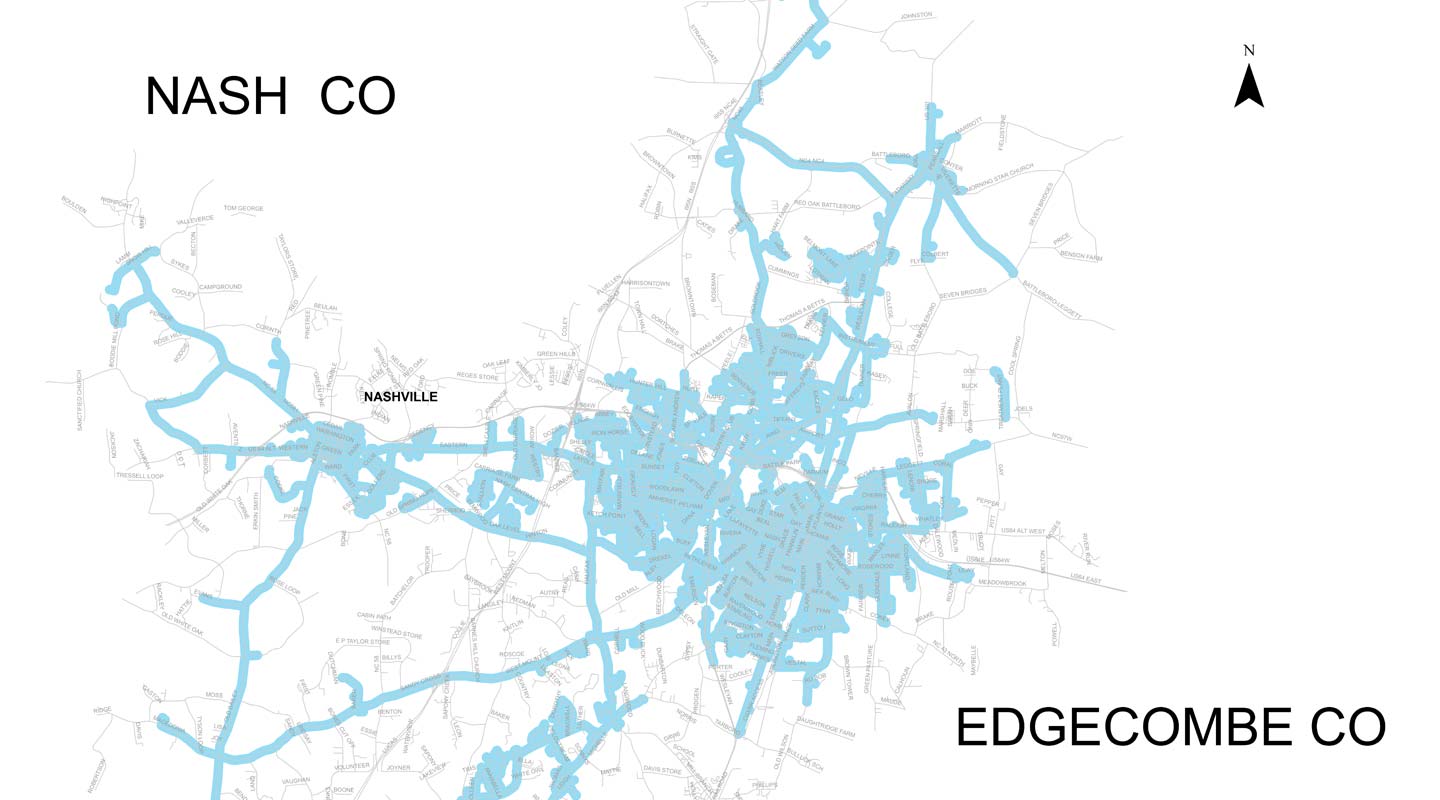 In order for natural gas to be available to you, there must be a gas main in your street. If a gas main is present, then a service line can be run to your home or building. If a natural gas main is not already available at your address, one would have to be installed. You will need to speak with an Energy Resources gas division representative to find out if a main could be installed and if there are any costs associated with the installation. For information, call 252-467-4820.
Natural Gas Safety Tips
Download the Natural Gas Safety Bill Insert: English & Español
Set the temperature on water heaters to 110 to 120 degrees Fahrenheit to reduce the possibility of scalding water.
Look for the blue flame. If pilot lights and burners have a steady, blue flame, they are operating correctly. (Decorative gas fire logs are the only exception. Their flame is usually yellow.)
Have all gas appliances, furnaces, vents, flues, chimneys and gas lines in your home or business inspected every year by qualified industry professionals.
Keep the areas around all appliances and equipment clean and unblocked to allow for proper air flow.
Follow manufacturer instructions for the care and use of gas appliances and equipment.
Make sure there is at least one multipurpose fire extinguisher in your home or place of business.
DO NOT use your stove or oven for anything other than cooking.
DO NOT move or install a gas appliance or change the connector in any way without professional assistance.
DO NOT install a gas appliance yourself. Always seek professional assistance.
DO NOT store household chemicals or combustible materials near gas appliances.
Carbon Monoxide Hazards
Carbon monoxide is an odorless, colorless, and tasteless gas lighter than air. High levels of carbon monoxide can be fatal. Carbon monoxide is a toxic gas produced when fuels such as gasoline, oil, propane, kerosene, coal, wood, and natural gas do not have an adequate supply of oxygen to burn completely. When carbon monoxide is inhaled, it combines with the body's blood and prevents it from absorbing oxygen. Symptoms of carbon monoxide poisoning include severe headaches, nausea, vomiting, and sleepiness. There is usually no fever associated with carbon monoxide poisoning.
Common Sources of Carbon Monoxide Poisoning
Malfunctioning heating equipment
Blocked chimney
Indoor use of barbecue grills
Using cooking appliances for heating purposes
Sitting inside an idling vehicle for a prolonged period of time
Repairing or running engines, such as vehicles, lawnmowers and snow blowers, in an attached garage
To prevent potential carbon monoxide poisoning, customers should have their heating and hot water equipment and venting systems inspected annually by a qualified technician. Safe natural gas equipment should show a clear blue flame. A yellow or orange flame may indicate a problem. Carbon monoxide detectors should be installed throughout the home to monitor the presence of carbon monoxide before it reaches dangerous levels.
How to Detect a Gas Leak
If you detect a gas leak, don't try to locate the problem. Leave your home immediately and call (252) 467-4800 or 911 day or night. Dispatchers are available 24 hours per day, 7 days per week. If the odor is inside your home or business, an emergency situation could exist and you should evacuate as a safety measure.
Signs You May Have a Gas Leak
Vegetation over or near a pipeline appears dead or discolored
Persistent bubbles in streams, ponds, or wet areas
Strong "rotten egg" smell
Shrill blowing or hissing sound
Dirt blowing up from a hole
If You Smell Natural Gas, Do Not:
Operate any electrical switches or appliance controls
Use a telephone or cell phone from the building
Smoke or strike a match
Pull any plugs from outlets
Use a flashlight or lighter
What You Should Do If There Is An Odor of Gas
If the pilot light is out, turn the appliance off and open a window to let gas escape.
Do not smoke, light a match or use anything electrical that may create a spark, including electrical switches, appliances, telephones and flashlights.
Wait five minutes and if the smell of gas persists even after turning off the appliance and ventilating the room, do not relight the pilot light.
Leave the home and call (252) 467-4800 or 911 from a safe location far from the smell of gas.
The city of Rocky Mount maintains ownership and is responsible for all gas mains and services leading up to the meter. After calling the city, a gas technician will be dispatched to check the meter and service lines. If the customer reports an odor of gas inside the residence, the gas technician will also test the inside atmosphere for a gas leak.
If the location of the leak is found and the leak can be isolated, the gas service may be left on. However, if the location of the leak is not found or the leak cannot be isolated, the service will be turned off at the meter to make it safe until the customer can make arrangements with a contractor.
All gas lines and appliances from the meter to the interior of the home are the responsibility of the customer and will need to be inspected by a contractor.
If the gas service is turned off, call the city at (252) 467-4800 to have the gas turned back on once a contractor has determined the home is safe.
Pipeline Safety
North Carolina law requires you to call 811 at least three full business days before digging and wait for utility lines to be marked on your property. Every digging job deserves a call, even small projects like planting trees or shrubs. The depth of utility lines varies and there may be multiple utility lines in a common area. Utility lines need to be properly marked because even when digging only a few inches, the risk of striking an underground utility line still exists.
Choosing not to call 811 before beginning a digging project could have serious results, such as injuries, disrupted service to entire neighborhoods, fines, and repair costs. You can avoid these unnecessary consequences by making one free phone call to 811 three days prior to digging.
Excess Flow Valve Regulation
The U.S. Department of Transportation Pipeline and Hazardous Materials Safety Administration (PHMSA) provides regulations the natural gas industry must practice to provide natural gas safely to customers. One regulation is for excess flow valves (EFV) or a curb valve be included in new natural gas installations for multi-family and commercial customers. Customers may request the installation, as it is not required, for existing natural gas services.
What is an excess flow valve (EFV)?
An excess flow valve (EFV) is a mechanical shut-off device that can be installed in the natural gas service line to the customer. An EFV is designed to shut off the flow of natural gas automatically if the service line breaks. EFVs may not close if the leak on the service line is very small. Stopping the flow of natural gas from a broken service line significantly reduces the risk of a natural gas fire, explosion, personal injury and/or property damage.
NOTE: EFVs are not designed to close if a leak occurs beyond the meter. This would include any interior leaks that may occur in piping or appliances.
Do I currently have an EFV on my gas service line?
The city of Rocky Mount proactively began installing EFVs on single-family residences in 2001 before they were required. Your natural gas service may already have an EFV device installed. Please call (252) 467-4800 to verify.
Should I request an EFV on my natural gas service line?
Beginning April 17, 2017, the city of Rocky Mount will automatically install EFVs or curb valves on all new natural gas service installations per the PHMSA regulation. (Most residential customers will receive an EFV; however, a similar device called a curb valve will be installed when the flow of natural gas exceeds the capabilities of the EFV.) EFV installation is optional for existing customers with natural gas services installed prior to 2001 (single-family residential customers) or April 17, 2017 (multi-family and commercial customers). Customers may request an EFV installation by calling (252) 467-4800. A representative from the natural gas division will contact you to set up an appointment to install the EFV on your service line. The natural gas division guarantees the installation within one year of your request.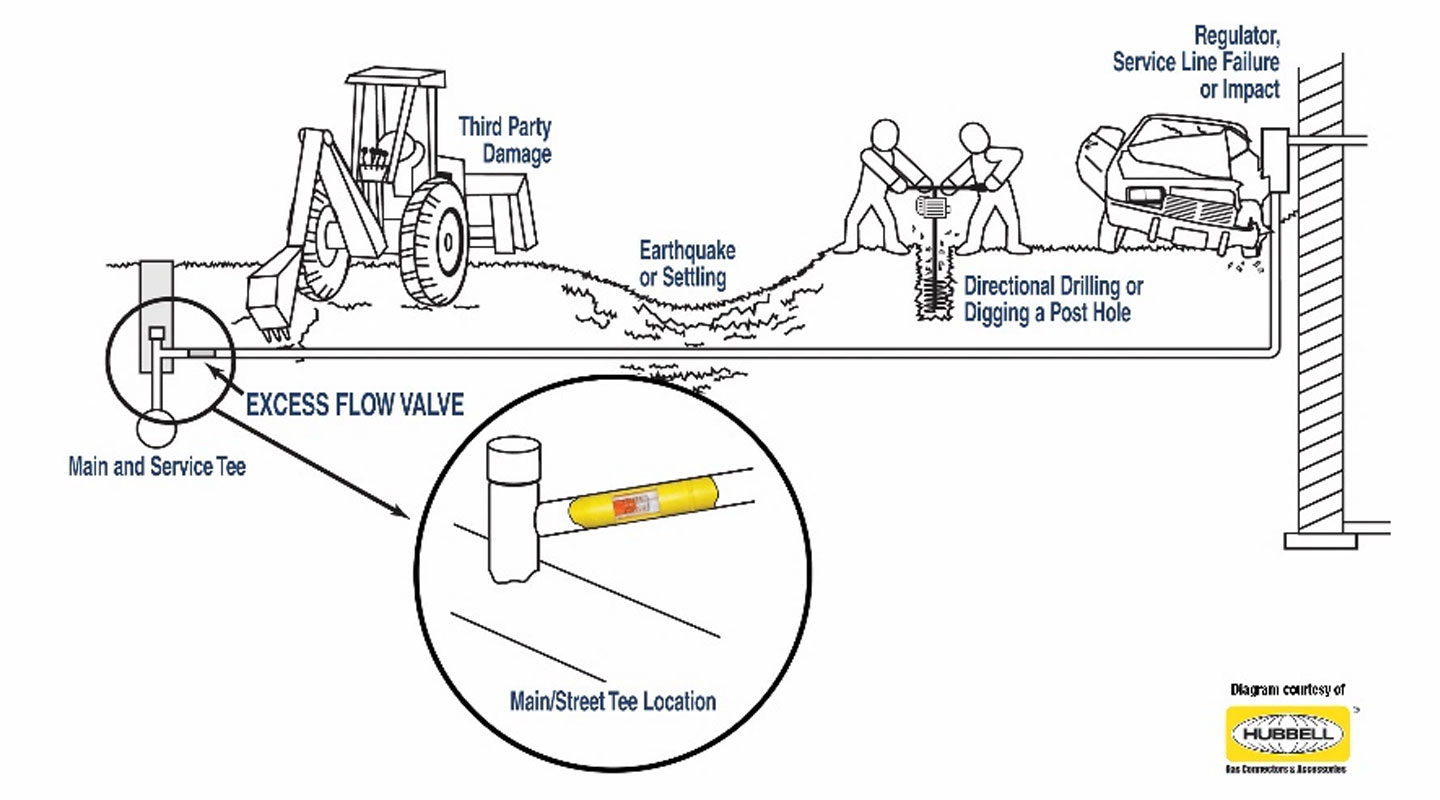 How much will it cost to have an EFV installed?
There is no cost to install the EFV. However, if your service has an existing EFV and you increase your natural gas usage above the capacity of the EFV, there is a cost associated with the change that will be determined based on the job requirements. Circumstances that may increase your natural gas usage are the addition of gas appliances, pool heaters, or backup generators.
The maintenance and replacement, due to failures of the EFV, will be free of charge. However, industry experience is that EFVs rarely malfunction.
How is an EFV installed?
The EFV will be located at the front of the property in the right-of-way where the natural gas service line is located. Please refer to the illustration below.
The city of Rocky Mount Energy Resources department offers an incentive program to encourage homeowners, builders, developers, general contractors and restaurant owners to install natural gas appliances in new construction for residential, commercial and industrial buildings outside the city's electric territory. New construction includes additions and expansion projects that add new space to an existing structure. Customers converting or replacing an appliance to natural gas from a fuel source other than the city's electric system, such as propane, are also eligible for the incentive program.
Natural Gas Equipment Eligible for Incentives Include:
New installation of: water heater when installed in combination with natural gas as the primary heating source, clothes dryer, cooking range and restaurant cooking equipment to include fryers, griddles, ovens, and/or steamers.

Conversion or replacement of: water heater, heating system(s), clothes dryer, cooking range and restaurant cooking equipment to include fryers, griddles, ovens, and/or steamers. (Replacement of existing natural gas appliances served by the city are not eligible for this program.)
There are three ways to apply for the Natural Gas Incentive Program:
Frederick E. Turnage Administrative Complex
RE: Natural Gas Incentive Program
331 S. Franklin St.
Rocky Mount, NC 27802
Making application does not guarantee incentive payment, but simply notifies Energy Resources of the customer's intent to apply for the incentives. The installation of eligible natural gas equipment will be verified at the time the gas division sets the gas meter. The meter can only be set after all natural gas equipment installations pass the required local inspection process. Once the meter is set and the eligible natural gas equipment installation is verified, the incentive payment check to the customer will be processed. For more information, email energyspecialist@rockymountnc.gov or call (252) 972-1269.
| | |
| --- | --- |
| Appliance | Incentive |
| Water heater and heating system as primary heating source (new installation only)* | $300 |
| Clothes dryer | $50 per appliance |
| Cooking range | $50 per appliance |
| Heating system (conversion or replacement only; excludes space heaters) | $100 per appliance |
| Water heater (conversion or replacement only) | $200 per appliance |
| Restaurant cooking equipment, including fryers, griddles, ovens and/or steamers | $500 per appliance |
*In new construction, both the water heater and heating system used for primary heating must be natural gas to qualify for the incentive.