Thank you for your interest in the City of Rocky Mount Fire Department. We value the opportunity to provide a better understanding of what we do for you.
All public education requests are scheduled through the Department's Fire & Life Safety Educator.
Please read the following General Guidelines and complete the form below.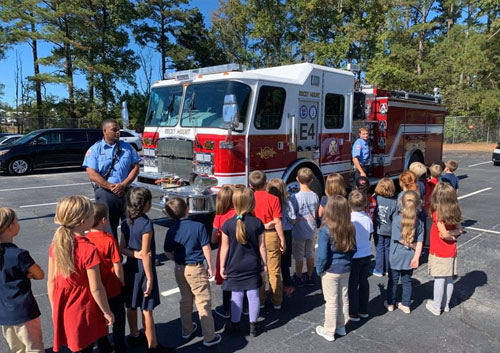 Public Education requests, including fire station tours, require at least a two-week advance notice. Today's fire department is a busy place even when not responding to emergency calls. The day-to-day schedule is very full with the various functions required of a modern fire department. Requests with less than a two-week notice will not be scheduled.
Although time has been scheduled for your tour or event, the engine and crew may be called to respond to an emergency. In the event the crew is called away, we will be happy to reschedule for another day.
These programs are provided for educational purposes and we are unable to accommodate any request for birthday parties or other non-educational events.
We welcome your interaction with the Fire Department and will strive to make it memorable for both you and your group. Please understand that the preceding rules are for your safety and will allow the fire crew to accommodate you, as well as tend to their assigned duties, in a safe and efficient manner.
After submitting the form below, you should receive a confirmation email that your request has been submitted. If you do not receive the confirmation email, please contact our Fire/Life Safety Educator at 252-972-1379.
Click on a topic below for more details or jump to the Public Education Request Form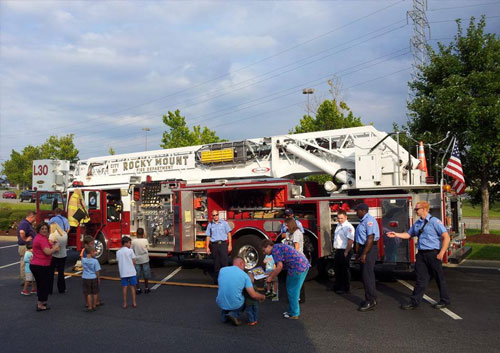 Station Tour Requests
Please remember that you are visiting an active, in-service fire station and will be briefed on a safe place to gather your group in the event that the engine is called out on an emergency.

During Station Visitations, there are no facilities available for you to serve food/cake to your group. Generally the fire crew will provide a brief tour of the station, in addition to displaying the Engine and its equipment and their turnout gear.
Puppet Show Requests
The puppet show is intended for children ages 3-7.

It can be done as a part of the Station tour for groups that fall in the above mentioned age range. If you would like to include the puppet show with your station tour, please be sure to make note of that on your request form.

The puppet show can be brought to your location for groups of 20 or more children. Once again, this cannot be done for social gatherings such as birthday parties.

You must provide an inside location with electricity for the puppet booth to be set up. Due to the unpredictability of the weather we are not able to perform the puppet show in outside locations.
School Visit or Special Event
At the event, the Fire Apparatus must be located in a position that will facilitate a safe and expedient response in case the Apparatus is called to respond to an emergency. We will also need to be able to park on a hard surface (concrete or asphalt).

If the crew is coming to your location and they do not arrive on time, or at all, it is due to call volume. In any event, we can reschedule for you.

The event must have a designated time for an educational presentation to occur to a specific audience. We cannot send fire apparatus to your event just to draw a crowd.
Fire Safety House Requests
The Fire Safety House is designed for children ages 6-13.

We can accommodate groups of 25 or less for ages 6-7, groups of 20 or less for ages 8-9, and groups of 15 or less for ages 10-13.

We use theatrical smoke at the end of the presentation to simulate conditions of a real house fire. The smoke is harmless, but anyone who wishes to exit before the smoke is used will be given that opportunity.

The Fire Safety House is a 31 foot long travel trailer that needs to be parked on a hard surface (concrete or asphalt). Please keep this in mind when planning for your visit.
Fire Extinguisher Training Requests
An LP burn unit with pressurized water extinguishers will be used for training.

We will need access to electricity and an outside area to discharge the extinguishers.

Class size is limited to 20 people per 1 hour training session.
Operation HeartBeat Compression-Only CPR Class Requests
The class is designed to teach compression-only CPR, no mouth to mouth breathing

The class only lasts 20 minutes

Can be taught to groups of up to 50 people at one time

Class participants do NOT receive a CPR certification
Guest Speaker Requests
We are always happy to send a Fire Department representative to be a guest speaker at your meetings or gatherings. Please be sure to note on the request form what topics of interest you would like addressed in the presentation and how long you would like the speaker to speak.
Fire Inspections & Plans Review