The Rocky Mount Trail System offers miles of greenway, natural surface trails and paddle trails for our community.   Please take time to understand the safety and rules for trail and consider downloading a map.  Call 911 in case of emergency and (252) 972-1411 to report suspicious activity.
Disclaimer of Responsibility: The cooperating organizations and individuals accept no responsibility for inaccuracies in the information provided on this page nor do they accept liability for injury or property damage arising from the use of this trail guide. To assist with providing up to date and valid information to the public, please contact the City of Rocky Mount Parks and Recreation Department prior to linking to or reproducing any trail information. 
David Griffin
Supervisor
P: 252-972-1151

Outdoor Recreation
PO Box 1180
Rocky Mount, NC, 27802-1180
Battle Park Bicycle Skills Clinics
The Rocky Mount the Parks & Recreation Department oversees a system of parks linked by the seven-mile Rocky Mount Greenway near the center of Rocky Mount.  These large parks comprise nearly 300 acres of parkland.  Starting in Sunset Park and following the Tar River through Battle Park, crossing the river into Stith-Talbert Park, the trails travels into Dr. Martin Luther King, Jr. Park and the Hillsdale Community.  Near South Church Street, a connector trail travels north to the Rocky Mount Sports Complex and Athletic Stadium.
Rocky Mount Natural Surface Trails
TRAILS CLOSED
FOR ALL USERS
In addition to the paved greenway, Rocky Mount offers natural surface trails in various parks.  These trails, also referred to as dirt trails, mountain bike (MTB) trails, cross country (XC) running trails or hiking trails support a variety of users.  Due the narrow width and popularity of these trails, users should read, understand and abide by the rules of each trail. 
Never walk, hike, run or ride on a wet trail, it causes damage to the trail tread.  A good rule of thumb is if it rained today or yesterday, the trail is probably closed.  Heavier rain or damage causes longer closures to allow the trail to drain or be repaired.
Trail Safety, Rules and Etiquette
Battle Park and Salamander Ridge XC/MTB Trail Map base loop
Trailforks 
https://www.trailforks.com/trails/battle-park-loop/ 
https://www.trailforks.com/trails/salamander-ridge/ 
Singletracks  
https://www.singletracks.com/bike-trails/battle-park-2/ 
Explore the waterways of Rocky Mount on the Tar River Paddle Trail. The trail is comprised of ten canoe and kayak access locations that connect over 55 miles of the Tar River and Stony Creek.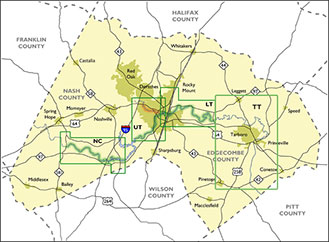 The green rectangles marked NC, UT, LT, and TT on the map above correspond to the large trail maps noted as Nash County, Upper Tar, Lower Tar, and Tarboro respectively (shown below). The red rectangle shown on the large maps marks the exclusion zone above the Tar Falls dam. See the map legend for details.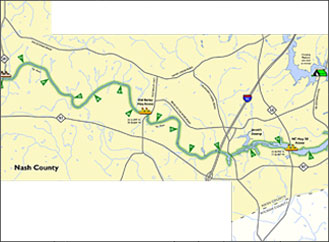 Nash County Section
Old Bailey Highway to NC Highway 58 (mile 88.5 to mile 94.5)
The Nash County section may be accessed via the following access locations: Old Bailey Highway Access and Highway 58 Access. Paddlers seeking a remote section of flat water may consider paddling this area. Jacob's Swamp, located at Mile 93, is accessible by a small cut on river left. This section of the river is just above the Rocky Mount reservoir; occasional motor boat traffic may be encountered.
Upper Tar River Section
Rocky Mount Reservoir Dam to Peachtree Street (mile 100 – mile 108.5)
The Upper Tar section may be accessed via the following access locations: Reservoir Dam, Lamon's Ferry, Nashville Road, Sunset Park and Peachtree Street. The route is highlighted by the Davenport grist mill dam, multiple small rapids (I-II), rural farmland and Sunset Park located along the route.
The Davenport grist mill dam is located approximately 1.25 miles downstream from the Reservoir Dam access. Extreme caution should be used when approaching the grist mill dam and portaging the dam to the river right is highly recommended. This area is not public property and paddlers should respect private property. Depending on water level, small rapids (I-II) may be encountered between Lamon's Ferry access and Nashville Road access. Paddlers should stay within their ability, and scout and portage as necessary. Occasional motor boat traffic may be encountered between Nashville Road and Peachtree Street. Paddlers should portage at the Peachtree Street access.
Rocky Mount Mills Dam Exclusion Zone
No paddle craft are allowed in the exclusion zone between Falls Road and the Rocky Mount Mills Dam. Paddlers should portage this area via the Peachtree Street access and the Tar River Trail. Caution and appropriate scouting should be used for re-entry during high water as the rock garden below the dam can be extremely hazardous.
Lower Tar River Section
Battle Park to Dunbar NC Wildlife Boat Ramp (mile 108.5 – mile 124.5)
The Lower Tar may be accessed via the following access locations: Battle Park, Neville Lane, Hwy 97 and NC Wildlife Boat Ramp at Dunbar. Paddlers may enjoy the history of Battle Park, Little Falls, rural scenery and small rapids along this route. If paddling in the Spring, paddlers may consider bringing a fishing rod, as American and Hickory shad as well as Striped bass end their migration along this route.
Depending upon water level, small rapids (I-II) may be encountered between Battle Park and Hwy 97 access locations. Paddlers should stay within their ability, and scout and portage as necessary.
Tarboro Section
Dunbar Road to Old Sparta Access Point
Stony Creek Section
Edgewater Dr. to Sunset Park (Tar River)
Stony Creek may be accessed via the following access locations: Edgewater Drive, Country Club Cove and the Sunset Park access located on the Tar River. Stony Creek is truly a hidden gem winding throughout Rocky Mount, but paddling opportunities are limited due to low water conditions that exist during much of the year which require multiple portages. During high water, extreme caution should be used in the area between Winstead Road and Jones Road as a section of rapids (II+), followed by strainers may exist. This area may be observed from the Jones Road Bridge. Paddlers should stay within their ability, and scout and portage as necessary.
Paddle Trail – Basin Wide
Camping Platforms
The City of Rocky Mount Parks and Recreation Department offers camping platforms located within the Rocky Mount Reservoir and Battle Park for non-profit and family use. Use of the camping platforms is by reservation only. Reservations can be made through the Parks and Recreation Department Office (252-972-1151) on a first come, first serve basis, not more than 6 months in advance, no less than one week in advance. Reservations must be made by individuals 18 years of age or older. Platforms are limited to 8 users. Platform users must follow appropriate policies and procedures. The City of Rocky Mount reserves the right to close the platforms at any time. Water levels may fluctuate greatly due to weather conditions and release of upstream dams. Platform rentals are from 2:00 pm on the first day to 1:00 pm on the last day.