The mission of the Water Sources Department is to produce and distribute potable water for domestic and commercial use and to collect, treat, and dispose of domestic and commercial wastewater. These services provide value to the greater Rocky Mount community by promoting economic prosperity, preserving public health and safety, and ensuring a viable future through responsible utilization of natural resources.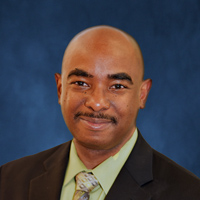 Brenton Bent
Director of Water Resources
252-972-1299
Frederick E. Turnage
Municipal Building
331 S. Franklin St.
Rocky Mount, NC
The city of Rocky Mount operates a Biological Nutrient Removal (BNR) Wastewater Treatment Plant with a rated capacity of 21 million gallons per day. The plant operates 24 hours/365 days per year and treats on average, 10-11 million gallons of domestic and industrial wastewater per day. The combined waste stream includes city of Rocky Mount's domestic and industrial customers, resale customers, which includes Nash and Edgecombe Counties, and four (4) surrounding municipalities. The Wastewater Plant also accepts wastewater from septic haulers whose service areas include six (6) counties. The treatment plant is located east of the city on Highway 97.
The Water and Sewer Division is responsible for the supervision and maintenance of approximately 504 miles of water distribution and 425 miles of sanitary sewer collection system mains. The water distribution system consists of seven (7) elevated water storage tanks and four (4) ground tanks with a total storage capacity of 10,000,000 gallons. The sanitary sewer collection system consists of 5,500 manholes and 36 sewer lift stations. The Water and Sewer Division is also responsible for the metering system and in conjunction with the Technical Services Division, conducts daily surveillance to ensure compliance with the city's sewer use ordinance and the Fats, Oil, and Grease (FOG) program.
The Water Quality Services Division provides analytical data & evaluation, oversee compliance of all regulatory requirements, provide technical expertise and oversight of the treatment process of both the Water and Wastewater Plants, and supports the Water & Sewer division's collection and distribution systems, all in an effort to ensure water quality to customers. Also, under their oversight is the monitoring and compliance evaluation of nine (9) Sanitary Sewer Significant Industrial User Customers and perpetual inspection responsibilities of wholesale municipal and county customers. The monitoring of Food Service Establishments (FSEs) primarily to prevent the discharge of Fats, Oils, and Grease (FOG) into the collection system is another essential function of the division.
The city of Rocky Mount operates two (2) Water Treatment Facilities, (Sunset and Tar River Water Treatment Plants).  The Water Treatment Division is responsible for the production of high-quality potable water to the city's domestic and industrial customers. The combined permitted capacity of the Plants are 30 million gallons per day (MGD) with a rated capacity of 26 MGD.  Average daily demand is 10 MGD.  Both plants serve approximately 80,000 customers The Sunset Water Plant is located across from the City Lake on Sunset Avenue and the Tar River Plant is located west of the city on Leaston Rd.
"Battle of the Bergs"
A project of Edwards Middle School students with the support of the Strategic Twin Counties Education Partnership (STEP) and the city of Rocky Mount Water Resources Department Tar River Regional Wastewater Treatment Facility.
https://sites.google.com/ncpschools.net/fightingfatbergs/home
Why are hydrants flushed?
Periodically, you will see Public Works personnel releasing water from hydrants. Hydrant flushing is necessary to test the hydrants to make sure adequate flow and pressure is available. Flushing is also done to remove sediment from the pipes in order to maintain water clarity and quality in the distribution pipes.
When are hydrants in my area flushed?
Hydrants are typically flushed in sections and on a monthly basis. Under normal operations sections are most times flushed the same month each year. In some instances the Fire Department may do additional testing outside of this schedule. There are also other situations such as, when repairs are made to a damaged line; which would require hydrants be flushed.
Is my water safe to drink after flushing?
Yes, your water is safe to drink. Occasionally, water becomes discolored after hydrant flushing. If this happens, run your cold water tap for a few minutes until the water clears. If it doesn't clear the first time, wait a few minutes and run the water again. You should avoid washing clothes until the water clears.
How can I found out when or if hydrants will be flushed in my area?
Information regarding hydrant flushing can be obtained by calling 252-469 4913, Monday to Friday from 7:30am – 4:00pm and after hours at 252-467-4800.
Common Water Quality Complaints
A large percentage of the complaints received fall into one of the following areas:
Rusty Water: As described in the previous section, fire hydrants are periodically opened to flush water mains in the system. Additionally, Fire and Public Works Department personnel routinely use hydrants to make assessments as to whether adequate pressure and flow are available to satisfy normal system demands as well as the increased demand required in the event of a fire. These actions, as well as some construction activities, may result in brief periods during which you may observe moderate discoloration in your tap water.
In addition to following the suggestions outlined previously, you should be aware that the City is constantly involved in line maintenance and repair; which often requires flushing hydrants when opening valves.
Cloudy/Milky Water: In the late fall and winter months the water that enters your homes can be quite cold. When this cold water enters your home plumbing, it is exposed to significantly warmer temperatures. This causes dissolved oxygen, that can reach and significantly higher levels in colder water than in warmer water, to escape in the form of "micro-bubbles" that can give water a cloudy appearance. If a glass of this water is allowed to sit for a short period of time the cloudy effect will dissipate.
White Particles in the Water: It has been determined that a number of hot water heaters manufactured between 1993 and 1997 may have defective cold water supply dip-tubes. These tubes are designed to direct the cold water entering the heaters to the bottom, thereby forcing the previously heated water to the hot water outlet near the top of the tank. The defective dip tubes have been found to separate from the cold water inlet and, over time, disintegrate into minute pieces resembling crumbled eggshells. This material can readily clog sink aerators and showerheads but is said to be non-toxic.
What is Emergency Disinfection of Drinking Water?
In times of crisis, local health departments may urge consumers to use more caution or to follow additional measures. If local public health department information differs from this advice, the local information should prevail.
When the home water supply is interrupted by natural or other forms of disaster, you can obtain limited amounts of water by draining your hot water tank or melting ice cubes. In most cases, well water is the preferred source of drinking water. If it is not available and river or lake water must be used, avoid sources containing floating material and water with a dark color or an odor.
When emergency disinfection is necessary, examine the physical condition of the water. Disinfectants are less effective in cloudy water. Filter murky or colored water through clean cloths or allow it to settle, and draw off the clean water for disinfection. Water prepared for disinfection should be stored only in clean, tightly covered, containers, not subject to corrosion.
Methods of Emergency Disinfection
Boiling: Vigorous boiling for one minute will kill any disease-causing microorganisms present in water (at altitudes above one mile, boil for three minutes). The flat taste of boiled water can be improved by pouring it back and forth from one container to another (called aeration), by allowing it to stand for a few hours, or by adding a small pinch of salt for each quart of water boiled.

Chemical treatment: When boiling is not practical, chemical disinfection should be used. The two chemicals commonly used are chlorine and iodine. Chlorine and iodine are somewhat effective in protecting against exposure to Giardia, but may not be effective in controlling Cryptosporidium. Therefore, use iodine or chlorine only to disinfect well water (as opposed to surface water sources such as rivers, lakes, and springs), because well water is unlikely to contain these disease causing organisms. Chlorine is generally more effective than iodine in controlling Giardia, and both disinfectants work much better in warmer water.

Chlorine bleach: When boiling is not practical, chemical disinfection should be used. Common household bleach contains a chlorine compound that will disinfect water. The procedure to be followed is usually written on the label. When the necessary procedure is not given, find the percentage of available chlorine on the label and use the information in the following tabulation as a guide.

| | |
| --- | --- |
| Available Chlorine | Drops per Quart of Clear Water |
|  1% |  10 |
|  4-6% |  2 |
|  7-10% |  1 |

(If strength is unknown, add ten drops per quart of water. Double amount of chlorine for cloudy or colored water or water that is extremely cold.)

The treated water should be mixed thoroughly and allowed to stand, preferably covered, for 30 minutes. The water should have a slight chlorine odor; if not, repeat the dosage and allow the water to stand for an additional 15 minutes. If the treated water has too strong a chlorine taste, it can be made more pleasing by allowing the water to stand exposed to the air for a few hours or by pouring it from one clean container to another several times.

Granular Calcium Hypochlorite: Add and dissolve one heaping teaspoon of high-test granular calcium hypochlorite (approximately 1/4 ounce) for each two gallons of water. The mixture will produce a stock chlorine solution of approximately 500 mg/L, since the calcium hypochlorite has an available chlorine equal to 70 percent of its weight. To disinfect water, add the chlorine solution in the ratio of one part of chlorine solution to each 100 parts of water to be treated. This is roughly equal to adding 1 pint (16 oz.) of stock chlorine to each 12.5 gallons of water to be disinfected. To remove any objectionable chlorine odor, aerate the water as described above.

Chlorine tablets: Chlorine tablets containing the necessary dosage for drinking water disinfection can be purchased in a commercially prepared form. These tablets are available from drug and sporting goods stores and should be used as stated in the instructions. When instructions are not available, use one tablet for each quart of water to be purified.

Tincture of iodine: Common household iodine from the medicine chest or first aid kit may be used to disinfect water. Add five drops of 2 percent United States Pharmacopeia (U.S.P.) Tincture of iodine to each quart of clear water. For cloudy water add ten drops and let the solution stand for at least 30 minutes.

Iodine tablets: Commercially prepared iodine tablets containing the necessary dosage for drinking water disinfection can be purchased at drug and sporting goods stores. They should be used as stated. When instructions are not available, use one tablet for each quart of water to be purified.
WATER TO BE USED FOR DRINKING, COOKING, MAKING ANY PREPARED DRINK, OR BRUSHING THE TEETH SHOULD BE PROPERLY DISINFECTED.