The City of Rocky Mount's Fire Department is ready to respond to emergency calls 24 hours per day, 365 days per year. At any hour of the day, Rocky Mount firefighters can be seen outside any of the City's 7 fire stations cleaning and maintaining the City's investment in emergency apparatus, conducting training exercises, assisting citizens and/or visitors, performing pre-plans, conducting public fire education events, or a number of other activities that enhance the public safety.
Rocky Mount Fire Department actively seeks competent, hardworking people who are interested in becoming Firefighters/Emergency Medical Technicians (EMTs) and are eager to be a part of a dynamic organization. We are always recruiting potential Firefighters/EMTs that have the desire and enthusiasm to serve our community in a highly professional manner. We offer a competitive starting salary, great benefits, excellent training and numerous advancement opportunities.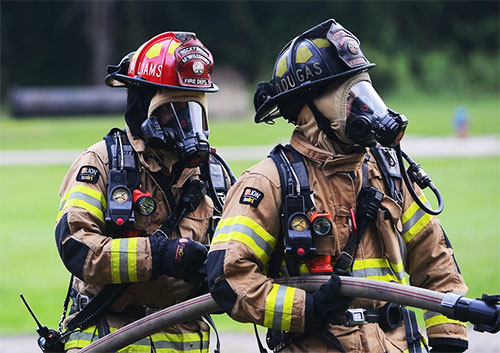 Becoming a member of the Rocky Mount Fire Department means challenge, prestige, job satisfaction and advancement opportunities. A career in emergency services is a respected profession within the community and one that gives an individual tremendous self-satisfaction knowing he/she is performing an invaluable service in support of Public Safety. You may enter the City of Rocky Mount Fire Department Recruitment and Selection Process and be notified when our hiring process opens by completing the online contact card on this page or by calling 252-972-1556. WOMEN & MINORITIES ARE ENCOURAGED TO APPLY!
Minimum Age: All applicants must have reached their 18th birthday at the time of the Strength & Agility Test.
Education: High school graduate or high school equivalency (GED) issued by the N.C. Community Colleges.
Local government retirement program
Health and life insurance
Paid vacation, sick leave, and holidays
North Carolina state fireman's pension fund
Local Government Employees Credit Union
Education incentive pay
401k retirement account
College tuition reimbursement
Work 9-10 days a month
Application Review Checklist
The following items are required and must be submitted to the City of Rocky Mount Human Resources Department with your application in order to be considered in our hiring process.
Copy of High School Transcripts or GED Certification or Adult Program Diploma
Copy of all College Transcripts
Veterans must submit a copy of their DD214
Employment Reference Contact Information (complete mailing address, email address and phone number )
Personal Reference(s) Contact Information (complete mailing address, email address and phone number )
Records Release Authorization signed and witnessed (accomplished after successful completion of the Pre-employment Strength & Agility Physical Assessment)
Exclusion of any information requested with the application may result in disqualification of your application.
Fire Inspections & Plans Review