Fire prevention and life safety is everyone's responsibility. The key to safety is to know the hazards you are exposed to and how to protect yourself from harm. Rocky Mount Fire Department prides itself on being a resource for the community for information on various fire and life safety topics. We promote and support community risk reduction through providing information and programs that help our citizens to take an active role in providing a safe environment for their families. Please take time to view the wealth of safety information provided and programs we make available to our citizens.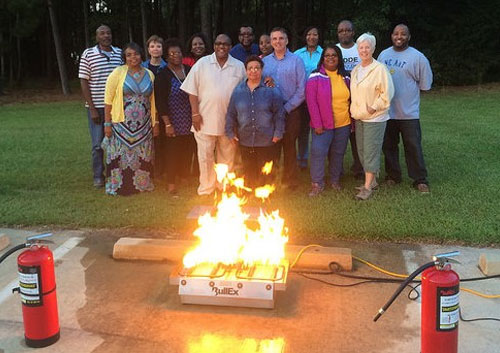 Have you ever wondered what it would be like to be one of the brave men or women who fight fires, enact rescues, and save lives? Well now is your chance to find out first hand! The City of Rocky Mount Fire Department Citizen's Fire Academy is a hands-on, fast paced academy that will introduce you to the exciting and demanding career of a professional fire fighter. It is designed to increase understanding of fire and emergency services and to promote citizen interaction with the City of Rocky Mount Fire Department.
The 6 week course taught by experienced fire personnel will provide participants an opportunity to gain classroom and hands-on experience to help them understand all of the services our fire department provides to our community. Participants must be 18 years of age and able to pass a professional background check.
Click Here to fill out the Citizens Fire Academy Application
The City of Rocky Mount Fire Department has always been instrumental in delivering quality fire and life safety programs. Our two traveling puppet companies are no exception, and have been the core of our fire and life safety education efforts with the children of Rocky Mount for 20 years. During the month of October alone, we present our puppet show to over 4400 children. Our existing program is targeted toward children ages PreK-2nd grade. It offers messages about Stop, Drop, and Roll, Get Low and Go, and Matches and Lighters Safety. To schedule a fire station tour and/or puppet show for your group, please contact the Fire and Life Safety Educator at 972-1379.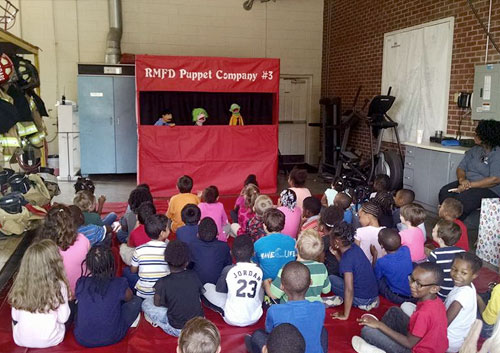 The emergency management function for the City of Rocky Mount is managed by the Fire Department's Assistant Chief of Administration and Planning who serves as City's Emergency Management Coordinator. The City has established an Emergency Operations Plan as a guide for managing disasters the community may experience. The City maintains a close working relationship with Edgecombe and Nash County Emergency Management agencies and work closely with both before and during emergencies that impact the local region.
For additional information call 252-972-1449.
For safety and preparedness information about fires, blackouts, hazardous materials, biological threats, cyber attacks, and other threats, as well as special considerations about home safety for families, seniors, infants, and pets, visit ready.gov.
Fire Inspections & Plans Review